We are pleased to confirm that commencing from sailing on 16 April 2015 ex Qingdao K-Line will be able to offer a new weekly direct service between Asia and the Adriatic ports.
The ADR Service is operated by Evergreen Line as part of the CKYHE Alliance Europe Service Network. The ADR Service operates with a 70 day round voyage. Please refer to the Service Map below for some further details.
Our strengths of the ADR Service include:

Shortest transit time to some destinations in Asia thanks to the K-Line operated
Intra-Asia Service.
New direct service from Koper and Trieste to Colombo with connecting feeder services to ports in Asia.
Availability of special equipment (reefer, open tops and flat racks)
Being the southern gateway to/from markets in Central European countries (such as Slovakia, Slovenia, Hungary, Austria & Czech Rep) as well as South Germany.
Possibility of pick-up and drop off in some inland terminals including Austria and Hungary.
Offering a new direct service from North China to Israel.
Offering direct service linking Asia with Alexandria, Egypt.
Additional advantages:
Fully dedicated customer service and sales representatives
INTTRA bookings and shipping instructions
Extensive network of agents worldwide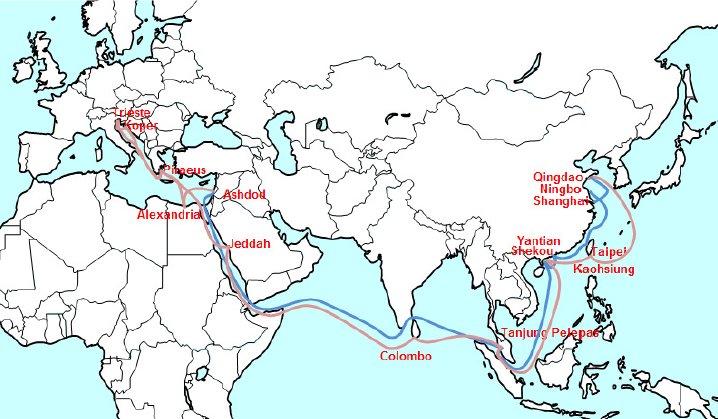 For any further information or sales enquiries please do not hesitate to contact us at the following email SAL.LN.SIKOP@centralog.com. Alternatively feel free to contact your sales representatives directly.